07-03-2023 10:00 am
Easter at Ladurée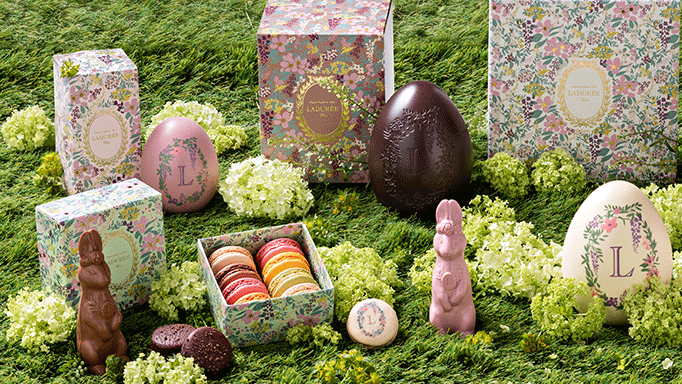 The Easter season is the season of Spring, the days are getting longer, the sun's rays are warming us up, the garden has turned green and is ready to bloom, the whole nature is awakening and getting colored.
Nature has always inspired jewelers, artists and fashion with its shapes and fragrances. This year, Ladurée pays tribute to nature by offering a walk through its imaginary garden of millefleurs, a colorful and sweet journey. A timeless theme, all in elegance and poetry, a field of flowers to be savored, an invitation to dream in a spirit of light and flowery fabrics.
Let yourself be guided by our Easter bunny, king of wonders, and pick up the chocolate eggs dressed in their most beautiful flower crowns.
The Rabbits
A rabbit guide of wonders inspired by the Easter hare.
Unclassifiable French sculptors, the Lalanne family, alias Claude and François-Xavier Lalanne, have made nature and animals the basis of their dreamlike creations. The works that populate their universe surprise and amuse so much they are rich of a poetry marked by surrealism, so much so that they seduced very early collectors as the Noailles or Yves Saint Laurent.
Inspired by the tradition of art nouveau, these cast bronze pieces are the starting point for imagining a mischievous Easter hare that seems to have come out of a children's story. Wearing a crown of flowers and a medallion bearing the House's initial, Lala the Ladurée rabbit is the ideal Easter guide.
King of the gathering, on the lookout for treats, proudly standing on his hind legs, he presents himself in his pink, green, ivory, milk or dark chocolate dress.
The eggs
Flower among flowers, Ladurée imagines a collection of spring sweets.
As early as the Renaissance, the practice of offering precious eggs appeared in the royal courts. The idea of decorating eggs developed in the 18th century. It is said that Louis XIV in particular appreciated the tradition of Easter eggs, and that every year at that time, gigantic baskets of eggs, mounted in pyramids, were placed in his room.
Under Louis XV, eggs painted by Lancret or decorated with Watteau's country landscapes were exchanged. To pay tribute to this tradition, Ladurée has created pink, green, ivory, milk and dark chocolate eggs, adorned with its famous laurel wreath reinvented for the occasion with delicate seasonal flowers, in the pure spirit of hand-painted eggs.
A tribute to the gallant parties and the bucolic carefree spirit of spring. Glycines, azaleas, daffodils, forget-me-nots, spring up and delight with their colors; nature is once again in celebration.
Come and pick the chocolate treats that are hidden in the garden, in a royal egg hunt.
Discover the entire Easter collection here.