23-05-2022 10:00 am
Ladurée x Roseblood: the unique collaboration with Château d'Estoublon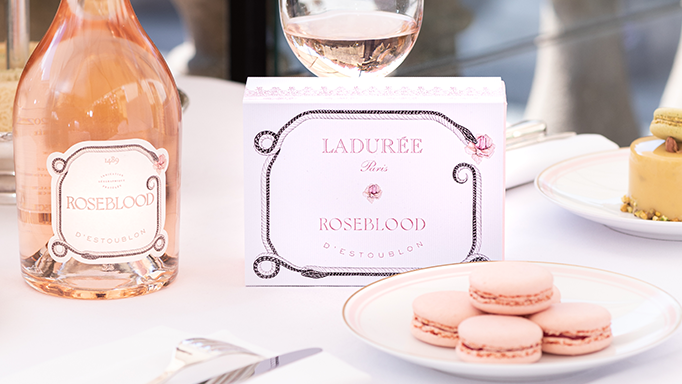 Ladurée is delighted to announce a unique collaboration with Château d'Estoublon. Nestled on the southern slopes of the Alpilles, in the heart of Provence, this magical 200-acre estate is renowned for its exceptional olive oils and wines since 1489.

Roseblood d'Estoublon rosé wine triggers the imagination and celebrates Nature in a vibrant echo to the serpent, icon of metamorphosis and seductive power, and the rose, tender yet wild. Roseblood embodies a playful and bold spirit, through the serpent's seductive spirit and the vital energy from the Garden of Eden that is Estoublon. Tension, vitality and floral tones exude, ceaselessly reinventing the myth in each sip. 
To celebrate the prestige and heritage of Maison Ladurée and Château d'Estoublon, the brands have created an exclusive collection, featuring macarons, sorbets, Roseblood Rosé wine, cocktails, and an exclusive afternoon tea.


This summer stimulates your senses at the exclusive Roseblood Ladurée pop up terrace in Covent Garden where you will be able to enjoy an irresistible blush palette food pairing experience combining the Ladurée Savoir Faire with the lively and elegant Roseblood rosé wine from Château d'Estoublon.